Travel
Flights
Fiji is nestled in the middle of the South Pacific Ocean and is easily accessible by air. Qantas, Virgin Australia, Jetstar, Fiji Airways and Air New Zealand regularly fly to Fiji.
Australian and New Zealand delegates can access direct flights from Sydney, Melbourne, Adelaide, Brisbane, Auckland, Christchurch or Wellington to Nadi International Airport, Fiji.
Forum delegates from Asia can travel to Singapore, Hong Kong or Tokyo where delegates can access a connecting flight directly to Nadi International Airport, Fiji.
Forum delegates from Europe or the US can travel to Los Angeles, San Francisco or Honolulu where they can access a connecting flight directly to Nadi International Airport, Fiji.
Nadi International Airport, Fiji, is a short 25-minute drive to Denarau Island where the 5th South Pacific ORL Forum will be held at the Denarau Convention Centre, Fiji, from 13-16 August 2023.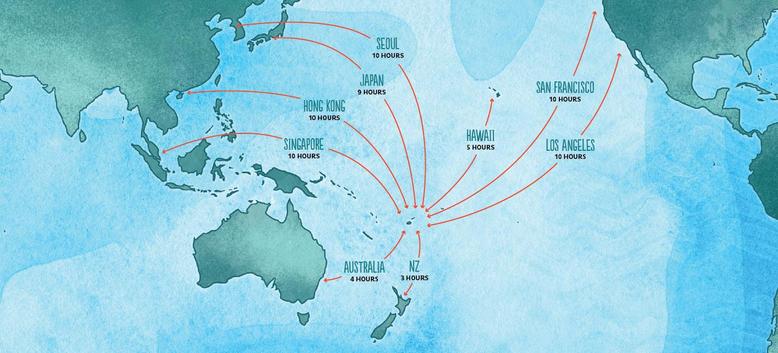 Visa Information
Nationals from the following countries are NOT required to obtain a visa before entering Fiji as a
visitor.
However, the following conditions must be met:
a valid passport for at least six (6) months beyond the intended period of stay
return ticket or onward travel to another country, which you are authorised to enter is required
confirmation of accommodation for the duration of your visit
must have sufficient funds to sustain his/her duration of stay.
Visitor permits are granted on arrival for a stay of four (4) months or less for nationals of:
Antigua & Barbuda
Argentina
Australia
Austria
The Bahamas
Bangladesh
Barbados
Belgium
Belize
Bermuda
Botswana
Brazil
Brunei Darussalam
Bulgaria
Canada
Chile
China
Columbia
Cook Islands (NZ passport holder)
Cyprus
Czech Republic
Denmark
Commonwealth Dominica
Estonia
The federal Republic of Germany
The federated States of Micronesia
Finland
France
The Gambia
Ghana
Greece
Grenada
Guyana
Holy See (Vatican)
Hong Kong (SAR)
Hungary
Iceland
India
Indonesia
Israel
Italy
Jamaica
Japan
Kenya
Kiribati
Latvia
Lesotho
Liechtenstein
Lithuania
Luxemburg
Macau
Malawi
Malaysia
Maldives
Malta
Mauritius
Mexico
Moldova
Monaco
Nauru
The Netherlands
New Zealand
Nigeria
Norway
Palau
Papua New Guinea
Paraguay
Peru
The Philippines
Poland
Portugal
Republic of Ireland
Republic of the Marshall Islands
Romania
Russia
Samoa
Serbia
Slovak Republic
St Kitts & Nevis
St Lucia
St Vincent & The Grenadines
Seychelles
Sierra Leone
Singapore
Slovenia
Solomon Islands
South Africa
South Korea
Spain
Swaziland
Sweden
Switzerland
Taiwan
Tanzania
Thailand
Tonga
Trinidad & Tobago
Tunisia
Turkey
Tuvalu
Uganda
United Arab Emirates
Ukraine
United Kingdom of Great Britain and Northern Ireland
United States of America
Uruguay
Vanuatu
Venezuela
Zambia
Zimbabwe
Nationals of other countries not listed above are required to pre-arrange a visa, which can be applied for at the nearest Fiji High Commission in the delegates respective country. Visa applications can be directly lodged at the nearest Fiji High Commission or embassy offices stationed abroad.
If you would like further information about obtaining a visa, please visit Fiji Visas .